Here are two more updates for the Garden Blogger Fall Color Project! I want to take a second to thank everyone who has submitted a post so far. I've seen so many interesting places with fantastic colors and scenery that I never would have been able to see in one season! If you haven't submitted anything yet don't worry about it, you have plenty of time to as the project is meant to be an ongoing seasonal event. Whenever your colors appear at their peak get your post up and we can take trip through your fall foliage!


Today's Updates!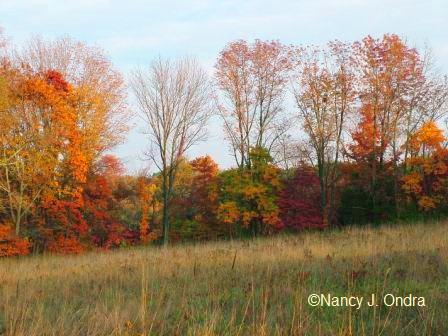 Nancy Ondra from Pennsylvania, a gardening author and blogger at Hayefield and
Gardening Gone Wild
, is displaying the colors of a South Eastern Pennsylvania autumn. From the water shots by Lake Nockamixon to the land near her parent's farm you can enjoy the blazing colors of sugar maples, red maples, sassafras, and evergreen junipers. Nan's photos of fall show a wonderful autumn painting of Pennsylvania!
If you've ever imagined driving or walking down a rustic lane with a canopy of colorful trees cascading overhead the visit Louise in New York at the
Buddy Garden Blog
. She has taken some fantastic pictures at the Storm King Art Center in Mountainville, New York. Two of her images are particularly striking to me because of the creativity of the shots. While all the pictures are great the photo of the lone bare tree against the azure blue background of the autumn sky really stands out. The photo of the park bench surrounded by the fallen leaves littered on the ground also represents the fall season extremely well!
2008 Garden Blogger Fall Color Project Particpants
Dan in Algonquin Park, Northern Ontario
(
Urban Veggie Garden Blog
)
George in Vermont
(
The Vermont Gardener
and
Vermont Gardens
)
Nancy in Nova Scotia, Canada

(Soliloquy)
TC in Western Pennsylvania

(Write Gardener)
Liisa in Vermont

(Liisa in Vermont)
Dawn in Maine (In the Garden)
Anna in the Shenandoah Valley, Va.

(FlowerGardenGirl)
Labels: Fall color